Ambassador Property Services  is the preferred company for cleaning your windows, pressure washing, deck staining, and gutter cleaning. Don't take our word for it. Take a few minutes to read what others are saying, and discover for yourself why we are the preferred company in Atlanta, GA, for all your outdoor cleaning needs.
I was happy with the window washing service that Ambassador Window Cleaning provided to my home. I needed some walls that needed to be painted. They said they could do this small project for me, so I gave them a try for painting the walls. The job they did turned out fantastic. They were professional, courteous, and neat. I would highly recommend them for the services they provide. Give them a try. You'll be glad you did!!!
Marie – Hoschton
---
Ambassador Window Cleaning gave a Prompt and Reasonable Estimate. The work was done within 3 days of the quote. They do Great Work!!!
The house was dingy looking before they pressure washed the house. The house looked like it had a new paint job when they were finished with the pressure washing job.
Pat – Norcross
---
Great Company to assist getting your home ready to sale!
Sherry – Norcross
---
Mike & Staff are a great group to work with!!!  They do an excellent job, and are always pleasant. They make window cleaning fun again!!!
Dr. Laena Karnstedt – Gainesville, GA
---
Ambassador Window Cleaning PROVIDED GREAT SERVICE!!! The Technicians were punctual and hard working. They were courteous and neat as well as VERY POLITE!  They were willing to do WHATEVER was necessary to get the job done and done right!!!
I HIGHLY RECOMMEND using their services. I will be calling them back again to not only perform window cleaning, but to do other services they provide such as deck staining. I am also going to recommend them and their services to others.
Catherine – Norcross
---
I wanted to let everyone know of the wonderful and professional services that Ambassador Window Cleaning provided for us. We have a beautiful Victorian Home located in a small rural town in Northeast Georgia. We find it very difficult to get quality services when needed. Mike did an outstanding job backed with references and professional behavior. We found his attention to detail is second to none.
Mike delivered on his promises and made our home ready for the Holidays! I highly recommend Ambassador Window Cleaning to anyone interested in quality services. We will be calling for Mike's services again!
Colonel John Rudio, Maysville, GA
---
We have used Ambassador Window Cleaning twice in 2 years and would HIGHLY RECOMMEND  this company to any business or residence.
The professionalism, courtesy, attention to detail and exceptional quality of work are some of the many reasons we suggest giving them a call. You'll be glad you did.
Donna, Suwanee, GA
---
Ambassador Window Cleaning took my black moldy fence and made it look brand new again. They did a great job! They were friendly, courteous, dependable, and did what they said they would do.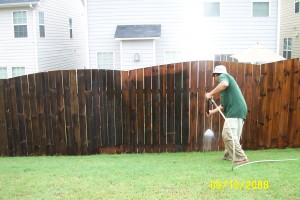 Before Fence Staining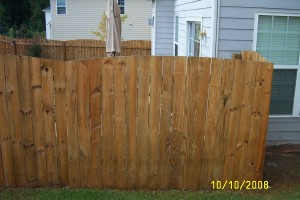 Fence Stained in Light Brown
For all of your deck or fence staining needs you should call Ambassador Window Cleaning. I Highly recommend them!
Omar, Norcross, GA
---
Mike was the ultimate professional. He arrived on time. He provided a written quote with references and proof of insurance. He was polite and courteous. On the day of the job, he arrived on time and finished the work on time. He did a beautiful job. His price was reasonable. His employee was also polite and courteous.
I will definitely recommend Ambassador window cleaning to my neighbors!
Sue, Sugar Hill