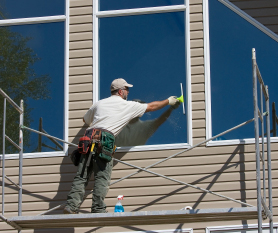 Window Cleaning Services
From Ambassador Property Services
Spring cleaning is in the air. All winter you have been looking out these dirty windows with dirt on the window sills and cobwebs on the corners of the windows. Now is a great time to call Ambassador Property Services to let the sunshine in.
Our window cleaning services include:
• Remove Cobwebs & Dust Sills & Ledges
• Basic soap used to clean the windows
• Haze remover, which can also remove light mildew
• An anti-static agent helps keeps dirt away from windows
• Water repellant that helps to repel the water when it rains
• Wipe down window frames
• Dry ledges & windows
• Scrub sills to remove dirt and mildew
• Wipe down and replace screens. (If any)
• And much more
We are licensed, bonded and insured for your protection.
Call Ambassador Property Services, at 678-421-0027 to give you a competitive quote on our window cleaning services today!