Gutter Cleaning Services
From Ambassador Property Services
As Winter starts to thaw, Its time to look at all the debris that has fallen into your gutters. Spring rains will come up and over full or clogged gutters causing damage to the wood underneath the gutters. So it's a good time to clean out the gutters and unclog your downspouts. Clean gutters and downspouts will allow the spring rains to flow easily from the gutters through the downspouts. Cleaning gutters today will eliminate damaging siding and eroding wood work on your home over time. Call Ambassador Property Services, at 678-421-0027 to give you a competitive quote on cleaning your gutters today!
                   Pressure Wash Your Home
Pressure Wash your home with  Ambassador Property Services. We give the outside of your home a face lift.  We use industrial strength bleach and detergents when we pressure wash a house to give it that fresh new painted look that pops. Before we apply any solutions we water down the plant life so they are not harmed by the cleaning chemicals. When cleaning houses we make sure the cobwebs are gone and a bright clean home remains.  Call us today, 678-421-0027 or visit our website at, Ambassador Property Services.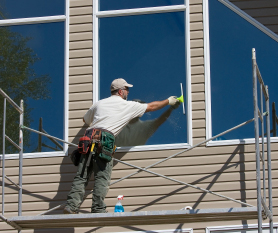 Window Cleaning Services
From Ambassador Property Services
Spring cleaning is in the air. All winter you have been looking out these dirty windows with dirt on the window sills and cobwebs on the corners of the windows. Now is a great time to call Ambassador Property Services to let the sunshine in.
Our window cleaning services include:
• Remove Cobwebs & Dust Sills & Ledges
• Basic soap used to clean the windows
• Haze remover, which can also remove light mildew
• An anti-static agent helps keeps dirt away from windows
• Water repellant that helps to repel the water when it rains
• Wipe down window frames
• Dry ledges & windows
• Scrub sills to remove dirt and mildew
• Wipe down and replace screens. (If any)
• And much more
We are licensed, bonded and insured for your protection.
Call Ambassador Property Services, at 678-421-0027 to give you a competitive quote on our window cleaning services today!
Over 25,000 homes catch fire in America each year because the chimney has not been cleaned causing over $210,000,000 in property damage. For $249, Ambassador Property Services can clean the chimney, do a 6 point inspection, and make any recommendations for repairs if needed, making the fireplace ready to be used safely this winter.  We were at Kevin's house a few weeks ago to clean his chimney and do the inspection. We found that he had no fire brick panels in his fireplace. We installed the panels and got his fireplace safe and ready to use so he could enjoy it this winter. For only$249, Call Ambassador Property Services at 678-421-0027 to get an honest and knowledgeable company to clean and inspect their chimney.